Join four Master of Media in Journalism and Communication (MMJC) students as they take you on a journey to learn more about Western University.
In this edition, take an audio tour of three Western buildings — some iconic and some lesser-known. Meet the people who work at and are inspired by the architecture of these buildings.
All photography by Ross Howey.
Jenna Freeman talks to Dr. Craig Miller, an engineering professor at Western University, and a project manager at the Boundary Layer Wind Tunnel Laboratory.
Andrew Dimarco speaks with Andres Villar,  a visual arts professor at Western University. Villar explains that the tower offers a historical connection, taking design cues from a time when universities were first being established.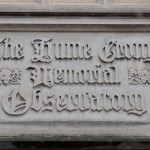 Kaylee Lambert interviews Professor Jan Cami, an astronomy instructor at Western University, and the coordinator for the Hume Cronyn Memorial Observatory on campus.