In the second semester of her time in Western's MMJC program, Emma Clarke was hospitalized for three days. Scared and overwhelmed, Emma was diagnosed with Type 1 Diabetes. Emma searched for resources to help her adjust her lifestyle and manage her diagnosis, but found that resources and support for young people in her situation were lacking.
When the time came for her Capstone Project, Emma wanted those living with Type 1 who like her, were having trouble locating the help they need to properly manage their illness, to have a resource she wished she had when she was diagnosed. Emma created the website "Living with Type 1" as a guide for those living with Type 1 Diabetes, with resources including injecting correct dosages of insulin, and diet and exercise tips.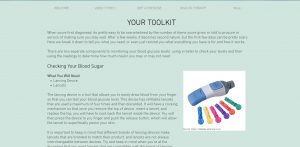 Check out Emma's complete website here!
Capstone Projects are produced by MMJC students at the very end of the program, as a chance to demonstrate their new skills and explore ideas and themes that interest them. You can learn more about the MMJC program at the FIMS website: fims.uwo.ca/mmjc