On her lunch break, while interning at House and Home Magazine in Toronto, Robin Radomski is on the prowl for the next big thing on the Toronto food scene. In a city filled with delicious and exciting new food trends, Robin dove head first into the world of Instragram with her account @blondeats, documenting the amazing meals she tasted throughout the city, and during her travels.
With graduation from Western's MMJC program around the corner, and her capstone project inching closer, Robin decided to examine exactly what makes someone's Instagram account become "instafamous". Through interviews with other Instagram influencers, Robin discusses how to gain followers, take the perfect shot, generate likes and the ins and outs of navigating the Instagram world.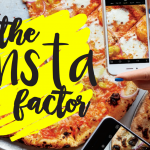 Check out The Insta Factor here [pdf].
Capstone Projects are produced by MMJC students at the very end of the program, as a chance to demonstrate their new skills and explore ideas and themes that interest them. You can learn more about the MMJC program at the FIMS website: fims.uwo.ca/mmjc