When Donna Currie tells friends she's going out to do adult colouring, the typical response is, "Oh, so it's porn?"
Although adult colouring may sound like a risqué activity, it's anything but. The hobby has been gaining popularity since 2013, yet it wasn't until last year when the books began topping bestseller lists.
Currie meets with her colouring group at the Masonville Branch of the London Public Library every Wednesday to unwind and colour away their stress.
Armed with thick colouring books and packs of pencil crayons, the women gather in a small room and sprawl their belongings out on a table. There's laughter and chatter as they begin to scribble away.
This evening, there are four women in attendance: a day care owner, a homemaker, a hospital switchboard operator and the group's organizer, a client technical analyst.
The black-and-white drawings they fill in are as diverse as their occupations. Cityscapes, mandalas, flowers, skulls, butterflies and faces — there's something for any skill level or interest.
"Every single person has a different reason for coming," Currie, the switchboard operator, said. "The stories are fascinating."
For the group's organizer Michelle Clermont, colouring helps with her mental health issues. She deals with depression, anxiety, skin picking disorder and PTSD from an abusive childhood.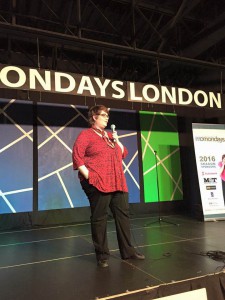 "[Colouring] has allowed me to distract myself … and find joy in a simple thing that doesn't cost a lot of money," Clermont said. "There's not that much that generates that level of excitement anymore as an adult."
The idea to create an adult colouring group came to her last May. She invited a few friends over for a relaxing evening of wine and colouring.
Interest began to grow and Clermont launched a Facebook group called London Ontario Adult Colouring Club, which now has almost 700 members. Though she manages the group alone, she encourages other people to run their own events.
Adult colouring meetups are now sprouting up all around London, including ones at art galleries, shopping malls and bookstores.
"I truly believe the reason this is growing so much right now is completely and totally related to technology," Clermont said. "We are so over-inundated with data that we never get to breathe … and all need a small escape."
London-based psychotherapist Emily Beeckmans agrees that colouring is a great way to calm the brain down. The concept isn't new to her — she's always used colouring with her clients to help reduce anxiety.
Beeckmans said research shows people's brains react to colouring similarly to if they were meditating. Both activities allow someone to focus and block out other distractions.
"Is [colouring] therapy in and of itself? No, but I think it is therapeutic," she said. "It's a tool."
After therapy sessions, Beeckmans likes sending clients home with exercises that help them stay mindful. This practice inspired the psychotherapist to partner with a local artist and create her own book that combines colouring with mindfulness tips.
She compares children's activity books to her project Adventures in Colourful Thinking. It's full of eclectic colouring pages, but also includes different quotes, reminders and games.
Beeckmans isn't the only Londoner interested in publishing a colouring book.
Lincoln McCardle, a local TV personality, is in the process of making one too. Despite being amazed by the online selection of adult colouring books, nothing appealed to him. He was looking for a book that included places in London.
Since he didn't know of any existing ones, he started his own. McCardle is collecting submissions online — such as photos of Covent Garden Market and St. Peter's Cathedral Basilica — and then digitally converting them into colouring pages.
The final product will be published soon, with all proceeds being donated to the Defeat Depression campaign. After talking to people about why they colour, he said the cause was a natural fit.
While many enjoy the mental health benefits of colouring, others appreciate the creativity boost.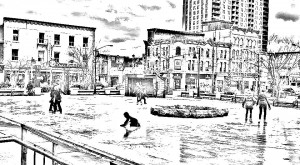 Vancouver artists Witek Radomski and Carrie Wong find colouring interesting because it lets the average person become an artist.
"With the colouring books, you can start exploring art in a way which is very easy and accessible, and you don't have to spend years … studying figure drawing," Radomski said.
The couple are self-taught artists. They work day jobs, but consider art to be their passion.
Together, they recently released a colouring book called Legendary Landscapes. Unlike most colouring books on the market, you won't find mandalas or flower patterns in theirs.
The book is bursting with iconic Canadian cityscapes and landscapes, from Quebec's Chateau Frontenac to B.C. ferries to the Canadarm.
"Everything is so American-centric," Wong said. "We wanted to put Canadian buildings and scenes on the map."
Steve McDonald is another Canadian artist with a uniquely-themed colouring book.
McDonald's popular colouring book Fantastic Cities features line drawings of aerial city views from around the globe.
The detailed illustrations include international destinations like San Francisco and Tokyo, but he's also slipped in a few local places. Among them, are Toronto and Creemore, Ontario.
"I love that people all over the world will be colouring in my drawings and hopefully becoming inspired to do their own," he said over email.
In London, Fantastic Cities is well-known with Clermont's colouring group. She likes that McDonald is a fellow Canadian.
"I'm really keen on supporting Canadian talent … because the exposure is huge."
Clermont is right — a wide display of brightly-coloured adult colouring books is the first thing you'll spot in most bookstores.
As others realize that adult colouring is more about stress relief and artistic expression than nude pictures, the demand can only grow.
"I told my family doctor that before they put anybody on antidepressants, I want them to hand them a colouring book," Clermont said. "Why are we immediately running to medications when there are things that we can be doing to calm us down and to relax us and to bring us a little happiness?"